There has never been more pressure on revenue teams than right now in this economic downturn. To succeed, revenue teams need to know what works and then scale those best practices across the organization. In order to make success repeatable, teams need to incorporate the best sales playbook examples into their playbook. 
Just like no football team is going to win the Super Bowl without a book of winning plays, no sales team should try to beat the competition without a playbook. 
The experts agree. According to research from Salesforce and The TAS Group, "companies that follow a well-defined sales process are 33% MORE likely to be High Performers." For the two-thirds of companies that do have a defined process in place, the results are powerful: a win rate exceeds 50%.
What is a Sales Playbook?
So you might be asking what exactly is a sales playbook?
A sales playbook contains all the best practices, sequences and conversational techniques that reps need to follow to be successful. It should be based on information that has been proven to be effective. A great playbook can help underperforming reps understand what A-players are doing differently. It can also help accelerate sales ramp up time.
The Best Sales Playbook Examples in 2023
Every business will have to consider unique factors when crafting a sales playbook. After all, plays are bound to change based on factors like ICP, average deal cycle and technology stack. But to help you hit the ground running, we've assembled some killer playbook examples that you can use to draft the ultimate sales playbook for your company.
Since we offer a sales cadence platform that's built directly in Salesforce, our customers often ask us for help crafting multichannel sequences. We created a best practices guide that features nine of our favorite sequences from our own sales playbook. 
Even if you're not using Guided Selling by Revenue.io, this guide will provide you with touch patterns that you can start using right away to connect with more key decision makers and close more deals this quarter. It's packed with best practices that we've learned from our own experience and from the hundreds of customers we've partnered with to achieve exponential growth. 
It covers sequences for:
Don't miss your chance to steal our most popular sequences, and tailor them to fit your own playbook.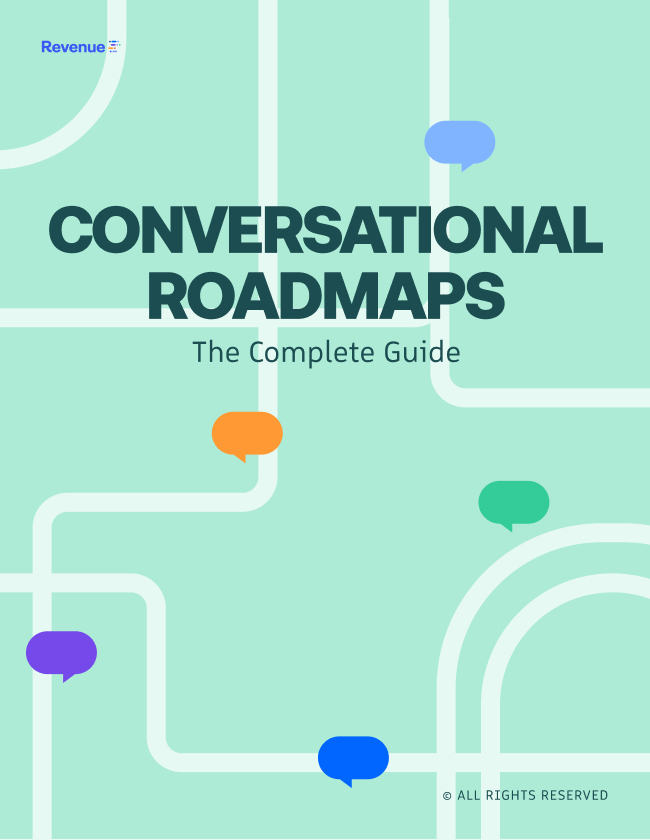 Call scripts can hold you back from building authentic connections and valuable relationships on sales calls. But there's a better way: conversational roadmaps. Conversational Roadmaps present a new, flexible call structure that doesn't lock you into an inauthentic script, but still has the assurance of proven selling points. It's the best of both worlds. This is an excellent playbook for having more authentic sales conversations.
Included:
The key elements of a conversational roadmap

Inspiration and examples for each element

An explanation of how to use roadmaps on calls

A worksheet to create your own roadmap, which you can start using immediately
The reps you are hiring (particularly in SDR and lead response roles) are likely inexperienced. Most newly hired SDRs only have 1-2 years of experience, with many being hired directly out of college. Without the right plan, effectively ramping these reps to productivity can seem like an insurmountable task. Therefore, every sales playbook must include information for ramping reps. 
3.1 months. That's how long it takes the average SDR to ramp, according to research by The Bridge Group.  But 3.1 months is a long time, when you consider that ramp times cost companies in terms of productivity and revenue while also putting a considerable strain on Sales Managers.
In order to ramp up reps as quickly as possible, it is imperative that the reps follow a specific process. We've created a ramping playbook that's packed with best practices that you can use to reduce ramp time for reps by up to 60%.
Included:
4 simple steps for setting up a new onboarding plan

The top 3 types of onboarding material

A practical day-by-day guide for onboarding reps in 6 weeks

Tactics to make sure that reps retain sales training
Go ahead… steal the same template that we've used to close millions in revenue. The perfect sales recap email should be part of any sales playbook, as it can help rocket a deal toward the finish line. This playbook template shows you how to do it. 
You can also check out this video on the subject featuring our VP of Sales Ryan Vaillancourt.
Once you've mastered the art of the Challenge Email, make sure to reference 5 Sequences Every Team Needs in Their Playbook to find out ideal email placement and frequency within the best sales playbook examples.
Companies typically invest a fortune in sales training, only to have 87% of that training forgotten in just a few short weeks. A sales playbook should include a framework for reinforcing sales training. Fortunately, we have you covered! 
Sales training is virtually worthless unless there's a clear plan to continuously reinforce it. But the good news is that it has never been easier to help salespeople follow their training and build the crucial skills they need to succeed.
Revenue.io Vice President of Sales Ryan Vaillancourt has cracked the coaching code and developed a new coaching framework that consistently reinforces sales training in real time. This template for improving coaching can easily be integrated into your playbook.
This on-demand webinar covers:
Why sales training almost always fails

An easy way to measure whether reps are following their training

How to help remind reps to follow their training in real time

How to identify exactly which new skills are impacting outcomes and scale them
Other Examples of What to Include in Your Sales Playbook
In addition to some of the best practices included in the above resources, there are several other factors that you will want to consider adding to your sales playbook.
Technology stack – It's important to outline your technology stack and best practices for how to use your various sales technologies. It can be overwhelming to assemble the right revenue stack technology stack since there are thousands of solutions available. We have created a guide to help you simplify your search.
Ideal Customer Profile (ICP) – make sure to include your ideal customer profiles in your playbook and information about the buyer personas that you sell to.
Key performance indicators – We've found that sales teams often track different sets of success metrics. We've created a guide that discusses some of the most important sales metrics that top revenue teams are tracking.
Customer journey – what does a journey look like for your customers? What happens during the discovery phase, what are triggers that inspire prospects to want to take demos. It's becoming more essential than ever for sales and marketing teams to collaborate to ensure that the buyer's journey is optimized across every touchpoint.
Discovery Questions – Identify the top discovery questions that reps should use when reaching out to prospects. These questions can be mapped to specific personas or coincide with various marketing campaigns.
How Sales Playbooks Are Changing in 2023
In order to keep up with growing demands, teams need to be able to execute multichannel, multitouch engagement with buyers. It's therefore not surprising that many high-performing sales teams are adopting and embracing AI-powered sequencing solutions to help them scale their efforts and drive more revenue. In fact, Gartner predicts that 75% of B2B sales organizations will augment traditional sales playbooks with AI-powered guided selling solutions by 2025.