When I was working as an agency marketer, I had the opportunity to work with several healthcare clients. Though the particular healthcare services those companies offered ranged, they all had a couple things in common. First of all, they all operated call centers that took inbound calls from prospective patients. Secondly, they were investing heavily in ads that were specifically designed to make qualified patients pick up their phones and call.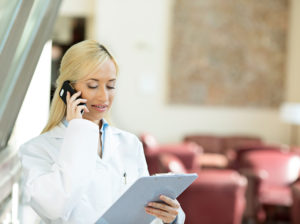 But spending a lot on advertising doesn't guarantee qualified patients will call. And even if prospective patients do call, it doesn't mean they'll be qualified. Lead quality is a common problem across many industries. However, a lot of healthcare companies rely on inbound calls for 50% or more of their patient bookings. It's absolutely vital to know that efforts are driving quality calls. The good news is that there are several things that healthcare companies can do to dramatically improve inbound phone lead quality.
Here are three ways for healthcare companies to get more of the right patients calling.
Use Call Tracking to Make Smarter Paid Search Bids
There are a lot of healthcare companies that handle at least half of their patient bookings over the phone. These companies sometimes invest millions of dollars annually in paid search, yet they have no way of knowing which ads are driving the best calls. But this doesn't have to be the case. All healthcare companies with call centers should invest in a call tracking tool that can report which paid search ads are causing the phones to ring. Healthcare companies that use Salesforce can go a step further. Revenue.io's call tracking tool seamlessly integrates with Salesforce so that healthcare marketers can see, in real time, not only which AdWords, Bing and other paid search ads are driving the most calls, but also which ones are driving ROI. The result is that healthcare marketers can invest more in the ads that drive the best outcomes.
Optimize Landing Page Content
When prospective patients click on an ad and reach a landing page, they should be able to tell almost instantly whether your company is offering the healthcare service that they're interested in. For example, imagine someone is interested in purchasing a paternity test. After clicking an ad, he sees language about genetic screening for diseases and bounces. Even if that company also offers paternity tests, it doesn't matter. They lost a good lead because their landing page didn't specifically cater to a patient's needs.
Google AdWords awards landing pages a quality score that is designed to help marketers provide customers with content on landing pages that's relevant to ads. In addition to helping marketers gauge whether landing page content is relevant, higher quality scores result in lower costs-per-click and lower first page bid estimates. So it is definitely in your best interest to optimize your landing page's score. Here's some info from Google on how quality scores are tabulated.
We also recommend employing click-to-call technology on landing pages. More and more individuals are conducting searches on their mobile devices. And being able to quickly call your company with a single click from a relevant landing page can inspire more of the right leads to call.
Track Calls from Offline Efforts
In addition to investing in paid search, lots of healthcare companies also invest in offline marketing efforts like mailings, newspaper ads, television commercials and billboards. But are those offline marketing efforts really causing qualified patients to pick up their phones and call? Call tracking tools offer an easy way to know which offline efforts offer the best returns.
Imagine a cosmetic dental office that advertises on billboards, sends out direct mailings and runs ads in the local newspaper. With a call tracking tool like Revenue.io, that dental office could provision a unique phone number for each of those offline marketing engagements. They might see, for example, that the newspaper ad offers 10 times the ROI of the more expensive billboard ad. The dental office could then take the resources they were spending on billboards and invest more heavily in newspaper ads proven to drive more qualified patients.
Want to learn more about call tracking? Download Call Tracking: The Definitive Buyer's Guide for Free.